In honour of my birthday tomorrow I thought that I would make this week's blog post somewhat birthday related. I was born in 1990, so much like last year I did a quick search to see which books were published that year. Rather than review one, I decided instead to compile a list of titles that I haven't read but would like to pick up at some point. This post is that list. Happy reading!
You might like – 30
Oh, the Places You'll Go! By Dr. Seuss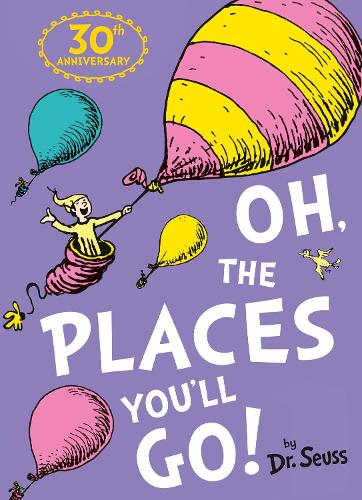 *Synopsis taken from Goodreads*
For out-starting upstarts of all ages, here is a wonderfully wise and blessedly brief graduation speech from the one and only Dr. Seuss. In his inimitable, humorous verse and pictures, he addresses the Great Balancing Act (life itself, and the ups and downs it presents) while encouraging us to find the success that lies within us.
And will you succeed?
Yes! You will indeed!
(98 and ¾ percent guaranteed.)
A modern classic, Oh, the Places You'll Go! was first published one year before Dr. Seuss's death at the age of eighty-seven. In a mere fifty-six pages, Dr, Seuss managed to impart a lifetime of wisdom. It is the perfect send-off for children starting out in the maze of life, be they nursery school grads or newly-minted PhD's. Everyone will find it inspired good fun.
I'm kicking it off with a bit of a random choice but there is a reason for this. I love The Cat in the Hat and my daughter is a big fan of The Lorax so when I saw a different title by Dr. Seuss that I hadn't heard of before, I had to include it. Hopefully it's a good one! I didn't enjoy Green Eggs and Ham (also by Seuss) so I guess this could go either way.
Jurassic Park by Michael Crichton
*Synopsis taken from Goodreads*
An astonishing technique for recovering and cloning dinosaur DNA has been discovered. Now humankind's most thrilling fantasies have come true. Creatures extinct for eons roam Jurassic Park with their awesome presence and profound mystery, and all the world can visit them—for a price.
Until something goes wrong. . . .
In Jurassic Park, Michael Crichton taps all his mesmerizing talent and scientific brilliance to create his most electrifying technothriller.
I'm a little embarrassed to admit that I didn't know Jurassic Park was a book, I thought it was only a film franchise. I tried to watch one of the films as a child (I can't remember which one) but I do remember feeling afraid and turning it off pretty quickly. The storyline definitely intrigues me though, and I think I should give the films a go again (my partner tells me they're brilliant!) but as somebody who likes to read the book first I think I'll source myself a copy of this and see what I think.
Four Past Midnight by Stephen King
*Synopsis taken from Goodreads*
At midnight comes the point of balance. Of danger. The instance of utter stillness when between two beats of the heart, an alternative reality can slip through, like a blade between the ribs, and switch you into a new and terrifying world.
Four Past Midnight: four heart-stopping accounts of that moment when the familiar world fractures beyond sense, the fragments spinning away from the desperate, clutching reach of sanity…
One of my reading goals is to read more Stephen King books. Shockingly, (for a huge thriller fan) I have only read one of his books: Misery. I loved it, so why it remains the only I have picked up, I couldn't tell you. Anyway, whilst this title doesn't appeal to me as much as certain others (The Shining and Pet Sematary in particular) it still sounds fantastic, so it's definitely worth including on this list.
You might like – My most memorable childhood stories
Edvard Munch: 1863-1944 by Ulrich Bischoff
*Synopsis taken from Goodreads*
For Edvard Munch (1863-1944), painting was an act of self-liberation. His treatments of fear, desperation, and death still exert a powerful visual and psychological effect on modern viewers. Of all Munch's paintings, The Scream (1893), representing a figure tortured by horror, is the most well-known-and certainly one of the most expressive.
The artist reflected his innermost feelings in his work: In reality, my art is a free confession, an attempt to clarify to myself my own relation to life… Although Edvard Munch cannot be clearly identified with any single movement, he is deemed a pioneer of Expressionism.
The Scream is one of my favourite pieces of artwork, I actually wrote about it here if you would like to know more. This book is a short explanation of Munch and his artwork and I think it would be a fascinating read. I know little about him, besides the fact that he was quite a complex character living in fear of illness. He and his other artwork sound intriguing so I would definitely like to give this one a read.
The Wrong Number (Fear Street #5) by R.L. Stine
*Synopsis taken from Goodreads*
It begins as an innocent prank, when Deena Martinson and her best friend Jade Smith make sexy phone calls to the boys from school. But Deena's half-brother Chuck catches them in the act and threatens to tell their parents, unless the girls let him in on the fun. Chuck begins making random calls, threatening anyone who answers. It's dangerous and exciting. They're even enjoying the publicity, and the uproar they've caused. Until Chuck calls a number on Fear Street.
To his horror, Chuck realizes he has called THE WRONG NUMBER. The jokes are over when murder is on the line. The murderer knows who they are and where they live — and they have nowhere to call for help.
Whenever I think of R.L. Stine it brings back fond memories of devouring the Goosebumps books as a child. I didn't however, ever read The Fear Street series. This is book number five in the series, but apparently it can be read as a standalone because the link is location. I'm sure this one will be a little outdated, after all using a landline is pretty much unheard of these days! However, I do think it'll be a fun trip down memory lane, fingers crossed it's as good as Goosebumps!
You might like – Inner child versus outer adult
Dancing at Lughnasa by Brian Friel
*Synopsis taken from Goodreads*
It is 1936 and harvest time in County Donegal. In a house just outside the village of Ballybeg live the five Mundy sisters, barely making ends meet, their ages ranging from twenty-six up to forty. The two male members of the household are brother Jack, a missionary priest, repatriated from Africa by his superiors after twenty-five years, and the seven-year-old child of the youngest sister. In depicting two days in the life of this menage, Brian Friel evokes not simply the interior landscape of a group of human beings trapped in their domestic situation, but the wider landscape, interior and exterior, Christian and pagan, of which they are nonetheless a part.
My final choice is the only book on this list that I already own. I purchased a copy because it was on one of my reading lists for a Uni module. However, when it came to it, I realised that it was grouped with another title and I had to choose which one to read/study. Anyway, this title didn't make the cut, and whilst I must admit that the synopsis doesn't immediately arrest my attention, I figure that because I have a copy already it is definitely worth a shot.
What do you think of my choices? Have you read any of the books that I picked? As always I would love to hear your thoughts!
Thanks for reading, I hope that you enjoyed!
Find me on: Instagram | Pinterest | Goodreads
Until the next time…Jess x