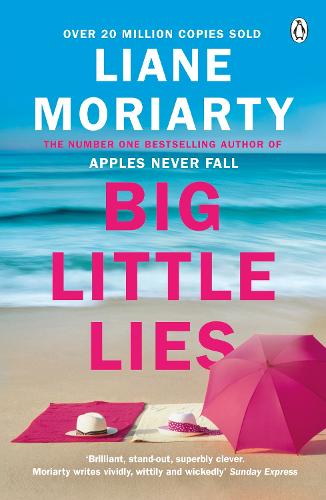 TITLE: Big Little Lies
AUTHOR: Liane Moriarty
PUBLISHED: 2014
MY RATING: 5/5
You might like – A book review: If I Can't Have You (ARC)
*Synopsis taken from Goodreads*
From the author of Truly Madly Guilty and The Husband s Secret comes a novel about the dangerous little lies we tell ourselves just to survive.
A murder…A tragic accident…Or just parents behaving badly? What's indisputable is that someone is dead.
Madeline is a force to be reckoned with. She's funny, biting, and passionate; she remembers everything and forgives no one. Celeste is the kind of beautiful woman who makes the world stop and stare but she is paying a price for the illusion of perfection. New to town, single mom Jane is so young that another mother mistakes her for a nanny. She comes with a mysterious past and a sadness beyond her years. These three women are at different crossroads, but they will all wind up in the same shocking place.
Big Little Lies is a brilliant take on ex-husbands and second wives, mothers and daughters, schoolyard scandal, and the little lies that can turn lethal.
You might like – A book review: His & Hers (ARC)
As I'm sure you'll have already guessed based on my rating above, I absolutely loved this book! It's been sat on my bookshelf for such a long time, and for one reason or another I didn't pick it up, but I'm so glad that I finally got to it because it is hands down one of my favourite books of the year, and probably that I've ever read…bold claim I know.
Before I get into why I loved it so much let me just talk briefly about the show that was created based on this book. I watched the series first, which is something that I try to avoid because I usually find it more difficult to enjoy a book if I've seen an adaptation first. However, I didn't know there was a book before I watched the series so the decision was taken out of my hands. In the interest of avoiding spoilers I won't elaborate on how but I will say that there are differences between the two, and some are more frustrating than others. I use the word frustrating because, to me, there are a couple that are unnecessary, but that's a matter of opinion. Again, as I'm sure you'll appreciate from my rating these differences did not affect my enjoyment of the book, and neither do they affect my enjoyment of the series. In fact, it's one of the best dramas that I've watched. Give it a go if you haven't already!
Now, back to the book.
Well, I could just begin and end by saying I loved everything but you probably want a little more detail than that. It's not often that I read a book that is both plot and character driven, and if I do it is often a lacklustre result, but not with this one. Big Little Lies is unputdownable because from page one I found myself invested in both the overall story and the individual storylines of each character in equal measure. It's one of those books that starts at the end and then goes back to present all the events that led to this end. I enjoy books that are structured in this way so I was excited to see how everything was going to unfold. I wasn't expecting a further twist on this structure however so this was another welcome element. We find out by the close of the first chapter that there has been a murder, but it would not be until the close of the novel when the details, including the person killed and the killer would be revealed. The book is structured so that as we travel back to find out the unfolding events there are interjections in each chapter from supporting characters. These interjections are all speculation regarding the crime and what they believe may have happened. The plot is strong, it's engaging and that coupled with short chapters only means you'll be rushing through this book just as I did.
You might like – A book review: The Seven Deaths of Evelyn Hardcastle
Now, onto the characters, the main characters that is. They are all designed so well that I found myself forgetting the faces of the actors that I have seen portray each individual character on screen, and instead I could build my own images in my mind which was great. There were some characters that I liked more than others, and one in particular that I hated but whatever my feelings I was invested in the life and decisions of each and every one of them. At no point was I zoning out, or feeling impatient to return to another narrative. All of the storylines were equally engrossing. I find success with this to be rather rare, even more so do I struggle to recall many books that successfully achieve perfect characterisation and plot. Big Little Lies absolutely does however.
The story unfolds at the perfect speed. Moriarty has designed this text to ensure the reader is hungry for more without feeling as though they are waiting for information. I sped through this text because it was so well written and laid out that it would be impossible to read it any other way. For me it's not a 'couple of chapters here and there' book, it's a 'pull an all-nighter and devour in one sitting' kind of book.
It's impossible to discuss a book of this type without mentioning the twist/ending. Now, besides some details the outcome mirrors that of the adaptation, so I knew who had been killed and who was responsible before I started reading this. However, I really don't think I would have guessed the outcome if I wasn't already aware. Furthermore, it's testament to Moriarty's writing talent that I still felt my heartbeat quicken as the main event unfolded, despite already knowing what was coming. It's certainly a strong and well executed outcome.
Overall, there isn't anything that I can criticise, I really loved it and I found it so good that Moriarty will probably be an auto buy author for me going forward.
You might like – A book review: And Then There Were None
To sum this book up it's a great murder mystery, very clever, and an interesting character assessment. It's a reminder of how affluence does not mean safety from sadness, or indeed the politics of the playground. Equally character and plot driven there isn't anything to not love about this book and I highly recommend it. In a word: addictive! I would particularly recommend to those that enjoy the thriller and mystery genres. It is one of those texts that I'll be asking friends and family if they've read it, and if they haven't I'll be begging them to. If you haven't read this one, please pick up a copy!
Have you read Big Little Lies? What did you think about it? If you haven't read it do you think that you will? As always I would love to hear your thoughts!
Thanks for reading, I hope that you enjoyed!
Find me on: Instagram | Pinterest | Goodreads
Until the next time…Jess x