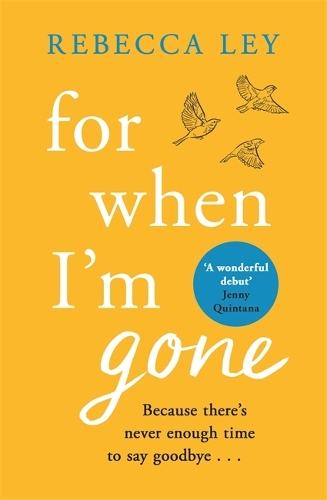 TITLE: For When I'm Gone
AUTHOR: Rebecca Ley
PUBLISHED: September 2020
MY RATING: 3/5
I received an eARC copy of this title from NetGalley in exchange for my honest review. My thanks goes to NetGalley and the publisher Orion for the opportunity to review this book.
*Synopsis taken from Goodreads*
Because there's never enough time to say goodbye…
Sylvia knows that she's running out of time. Very soon, she will exist only in the memories of those who loved her most and the pieces of her life she's left behind.
So she begins to write her husband a handbook for when she's gone, somewhere to capture the small moments of ordinary, precious happiness in their married lives. From raising their wild, loving son, to what to give their gentle daughter on her eighteenth birthday – it's everything she should have told him before it was too late.
But Sylvia also has a secret, one that she's saved until the very last pages. And it's a moment in her past that could change everything…
You might like – A book review: The Sight of You (ARC)
Whilst I can't deny that this was an enjoyable read overall, I must admit that it didn't leave me completely satisfied. I felt that certain elements were too predictable and the ending was one of those 'all tied up neatly with a bow' scenarios that often just doesn't ring true in real life.
I'm going to start by talking about the characterisation, which overall fell a little flat for me. I certainly sympathised with Paul (Sylvia's husband), and Nush (Sylvia's friend) was likeable enough, but ultimately I didn't feel strong reactions to any of them. I felt that Natalia was a pointless character, and her inclusion in the story was just frustrating. There were a couple of different suggestions as to who she really was and what her true intentions towards Paul and his children were but none were convincing. For me it was obvious immediately how things would play out and suffice to say it went exactly as expected. Whilst the characterisation of the two children was really well done I would've liked to have seen a little more of them in the story. It would've been interesting to delve a little deeper into the backstory of Sylvia's mother and sister also. What I did read of them certainly left me wanting to know a little more. Ultimately, whilst I did feel for the grieving family, and whilst I appreciate that the author was most likely trying to highlight the complexity of individuals and show grief in its many guises, I personally just struggled to care as much as I probably should have about the journey that they were on.
Sylvia (the character whom the story revolves around) was somewhat problematic for me also. I understand that she was designed to be repenting for past mistakes as her life came to an end, but some of the mistakes I just didn't feel like she would have made. Instead they felt like convenient tools to drive the plot forward. Having said that her pain and anguish with regards her looming death and all that she would miss out on was heart wrenching, and I really went on that journey with her. Sylvia was probably my favourite character because for me she was the most relatable. She tried her best but she had flaws, she messed up from time to time because she wasn't perfect but she loved her family. Of course it is known from the start that there is no happy ending with this book but I would've loved to see a miracle take place for Sylvia. Although, as I reflect on it now I wonder if the certainty of death was what brought out the elements of her character that I loved, and would she have been the same Sylvia if she had survived?
You might like – A book review: Ghost Music
The main plus for me with this book was the writing style, it was enough to keep me reading at times where other elements were frustrating me. I liked how the chapters were laid out, the jumping back into the past and from Sylvia's manual to the present day was not at all confusing, in fact it was executed really well. It gave more credibility to what was taking place because there was a clear path from what caused something to happen to the after effects of it happening. I may have found certain events a little too convenient for my liking but nothing was beyond the realms of possibility. I also thought the book was paced well, at no point did I feel as though it was rushed, and none of the text came across as filler either. In my opinion all the events unfolded at the right time.
Overall I enjoyed this book there were just certain elements that I would change, but that's personal preference and not a reflection on the book or the author. For a debut I think this is a strong piece and I've read a lot of reviews that absolutely loved this one so it's definitely worth a try if you think it's the kind of thing you would enjoy.
I'd certainly give this author another try in the future but I can't say I'd be rushing to reread this one.
Have you read For When I'm Gone? What did you think about it? If you haven't read it do you think that you will? As always I would love to hear your thoughts!
Thanks for reading, I hope that you enjoyed!
Find me on: Instagram | Pinterest | Goodreads
Until the next time…Jess x