As promised here is part two of the books that I found lurking in the depths of my bookshelves and which I had forgotten I owned. If you didn't read part one and would like to then you can find it here.
Happy reading!
Shirley by Charlotte Brontë. Published 1849.
Synopsis
Shirley follows two contrasting heroines: the title character and her friend Caroline. Timid Caroline is disillusioned and struggling with the life that single women in the nineteenth century were expected to live. Meanwhile Shirley is outgoing and confident, she has wealth that has granted her some freedom from the conventions of the time. With industrial considerations and romantic strains this social commentary examines the plight of women against the backdrop of The Napoleonic Wars.
I received this book as a gift a few years ago, and I must admit that despite being such a huge fan of Jane Eyre I just didn't feel compelled to read this one. I remember thinking that I'd definitely give it a try, but with it being a long one it would take a bit of dedication, so I'd have to pick the right time. Anyway, I didn't end up giving it a try and instead I forgot all about it. It didn't intrigue me too much when I found it this time but after reading a couple of reviews I'm much more interested in reading it. As I said, it's long so I don't anticipate that I'll get to it soon because I have a lot of other books to catch up on, but my opinion has changed from thinking I probably won't read it to I will, it's just a matter of when.
Fall From Grace by Danielle Steel. Published 2018.
Synopsis
This is the story of Sydney. Widowed at the age of forty-nine she discovers that her husband did not include her in his will. With her awful step-daughters in control Sydney soon loses everything. To the dismay of her own daughters she makes the choice to return to work in the fashion industry. She was a talented designer, but that was years ago and now it seems there is danger awaiting her. Sydney finds herself exploited by her boss and faced with criminal charges. Things really can't get any worse. Now she must choose between giving up or fighting back.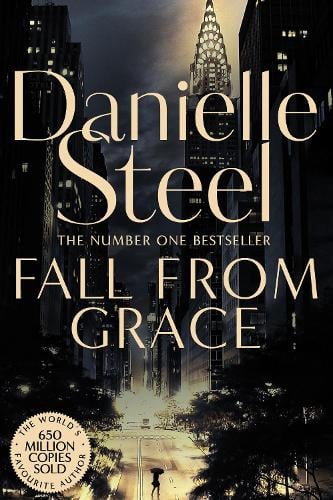 Again this one was a gift. I'm not sure why I haven't read it before now. I find that I usually get through a Danielle Steel novel in only a couple of sittings, sometimes one evening is enough. I love the escapism that her novels provide, so I'm definitely going to get to this one as soon as I can. It's just the kind of read that I'm craving at the moment.
You might like – The books I plan on reading this year (2020)
Anne of Green Gables by L. M. Montgomery. Published 1908.
Synopsis
The Cuthbert's have applied to an orphanage for a boy to help on their farm. Awaiting his arrival they are surprised to see Anne appear instead. A feisty young girl, she brings chaos to Green Gables, and yet she manages to charm everyone. Before long it is difficult to remember life before Anne arrived. A children's classic this is the first in a series.
I remember buying this book  because it was one of those books that I thought I should read. I had heard of it growing up, it is an extremely famous children's classic after all, but I knew nothing else besides its title. I confess that when it arrived I didn't even look at it properly, I just put it on my shelf and there it has stayed. However, I did a little bit of reading up on it when I was putting this post together and it sounds like the most lovely feel good story. I'm so impatient to get to it and find out if it makes me smile as much as I suspect it will. I anticipate reading this one very soon.
Fairest of All: A Tale of the Wicked Queen by Serena Valentino. Published 2009.
Synopsis
Have you ever wondered why the Wicked Queen was so evil? Find out in this magical tale of love and heartbreak that explains how the classic story of Snow White came to be.
Again, this was a gift, and whilst it's not the kind of book that I would usually pick up I do think it will be a fun read. I had a quick flick through it when I rediscovered it and it's under 250 pages, with short chapters and large font so I don't think it would take me long at all to get through it. I'm intrigued because as I said it's not something that I would have bought for myself so I'm interested to see whether I enjoy it or not. I think I'll be picking this one up again quite soon.
You might like – Are book covers important, or is it only the story that matters?
Alice in Wonderland by Lewis Carroll. Published 1865.
Synopsis
This is the story of Alice, a young girl who falls down a rabbit hole and finds herself in a fantasy world with the most unusual creatures. Originally composed to entertain a young girl known to the author, this children's classic has continued to enchant children and adults alike for generations.
I bought this because when I was studying for my degree one of the modules touched upon it briefly in relation to another text that was on the reading list. I remember thinking how I wished that this book was also on the list because whilst it was a story that I was familiar with (it's so ingrained in popular culture), I was yet to read it. This was probably about four or five years ago now, why I still haven't read it is beyond me but the idea of escaping into a fantasy land where I can finally meet all these characters I feel as though I know already is extremely appealing. I won't be letting this book get forgotten again.
A Snapshot of Murder by Frances Brody. Published 2018.
Synopsis
Kate Shackleton loves taking photographs but her detective work means she rarely has the time. Whilst on a break from work she decides it is the perfect opportunity to pick up her camera, and when the local Photographic Society organises a trip to Brontë country she eagerly signs up. However it is not long before her detective skills are called into play when a member of their group is murdered. Can Kate solve the case and bring the murderer to justice?
I bought this book simply because it mentioned Brontë country and it had murder in the title. Those two elements were enough that I didn't look any further. I'm now aware that it is a series and this one is number ten so I really hope they can be read as standalone books! I get the impression that Kate is a Poirot/Marple character and this intrigues me. I do want to read this book, it sounds great, but it's another book dealing with crime and murder and as I said in part one I've read a lot of books like this recently and I need a bit of a break. That being said, I will definitely read it eventually, it just won't be soon.
You might like – Book related Q and A
Have you read any of these? What do you think I should prioritise? As always I would love to hear your thoughts.
Thanks for reading, I hope that you enjoyed!
Find me on: Instagram and Pinterest
Until the next time…Jess x