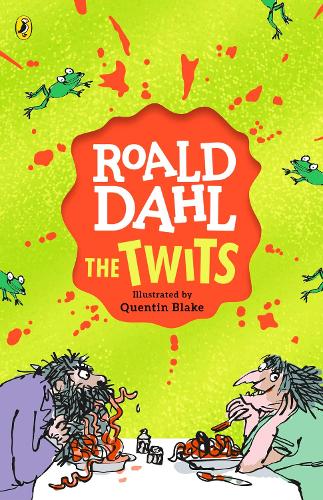 TITLE: The Twits
AUTHOR: Roald Dahl
PUBLISHED: 1980
Meet Mr and Mrs Twit, a truly gruesome couple! Just one of the horrible things about them is the fact that they keep monkeys locked up in their garden. These monkeys have rebellion in mind however. Will Mr and Mrs Twit finally get the comeuppance that they so deserve?
I wrote a post a really long time ago where I shared my three favourite Roald Dahl books, you can find it here if you haven't read it and would like to. Well, my top three were Matilda, George's Marvellous Medicine and The Twits. I've posted full reviews for Matilda and George's Marvellous Medicine already so I figured it was about time that I did a full review for this one as well, so here it is.
This is one of the first Roald Dahl books that I remember reading as a child, it's not just me being sentimental when I say that I love it however. It really is a great book!
It's typical of Dahl's writing, there's fun and humour but with an underlying serious aspect designed to remind the reader of the importance of morality. The morality here is that Mr and Mrs Twit are awful and they deserve some comeuppance for their terrible actions. It's a reminder that we shouldn't behave badly or treat others poorly. Dahl is also presenting the opinion that bad behaviour shouldn't go unpunished. Of course all of this is wrapped up in Dahl's wonderful storytelling, so there is the fun and silliness that readers of his would expect.
You might like – My favourite author and my favourite people
For me, when I think of this book the illustrations immediately come to mind. Quentin Blake's illustrations are fantastic in all the Dahl books but for some reason it's his work in The Twits that is most memorable for me. I enjoy the illustrations as much as the words which is not usually a judgment that I would make. I think it's important to mention because the text and the images really do go hand in hand in this book.
Illustrations aside I love the aspect of good triumphing over bad and the message of hope that the book presents. The Twits is a short and fun read that can help remind us all of the importance of treating others correctly. I can't imagine anyone reading it and not smiling.
You've probably guessed by now but just to clarify there is nothing about this book that I would change, I loved it as a child and I still love it now!
MY RATING: 5/5
Have you read The Twits? What did you think about it? If you haven't read it do you think that you will? As always I would love to hear your thoughts!
Thanks for reading, I hope that you enjoyed!
If you would like to see more of my content then please follow this blog and check out my Instagram and Pinterest pages.
Until the next time…Jess x