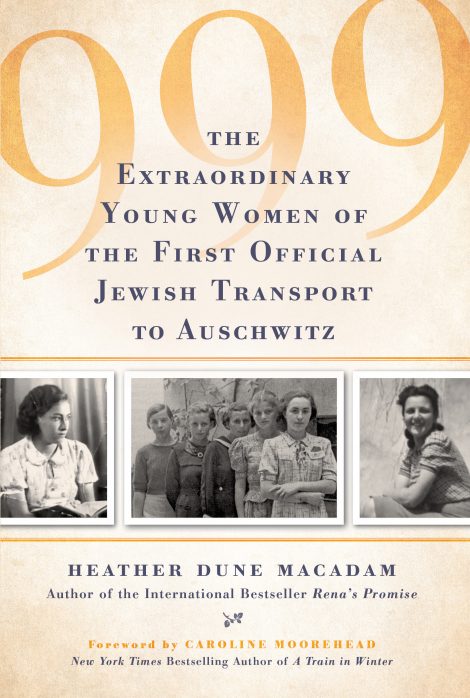 TITLE: 999 The Extraordinary Young Women of the First Official Jewish Transport to Auschwitz
AUTHOR: Heather Dune Macadam
PUBLISHED: 2019
I received an eARC copy of this title from NetGalley in exchange for my honest review. My thanks goes to NetGalley and the publisher Kensington Books for the opportunity to review this book.
Slovakia, March 25 1942. This is the date when the lives of nearly 1000 young and unmarried Jewish women would change forever. This is the date that they boarded a train, believing they were heading to a factory for a few months of national service. Some were full of pride, others were nervous and apprehensive. What none of them had considered however was the truth of what awaited them. They were the first official Jewish transport to Auschwitz, sold for a measly sum by their government to the Nazi's as slave labour. Only a few would survive. This is their story.
You'll not be surprised to hear that this is in no way an easy read, but then it was never going to be considering the subject matter. It is however an important read.
I was unaware of this particular transport to Auschwitz, and I question why it is not more well-known. I have always had an interest in World War Two, and as a result I have read a vast amount of literature about it, and yet, this is a part that I had no idea took place. This transport played a huge role in the creation of Auschwitz as it came to be, it's also so important in relation to the history of women as a whole. No men were selected for this transport, highlighting how women were almost as low as Jewish people in the eyes of those in authority. A Jewish woman therefore was the lowest of the low.
It's clear from what I have said above that this book taught me a lot. It is extremely well written and full of important details which is testament to the painstaking research that the author undertook. The time and effort spent is clear and results in a must read book. I believe this title would thrive in an academic setting.
The author made the decision to include dialogue, on the basis of what she would imagine the individuals would have said given the facts and testimonies at her disposal. This is a move that could be considered risky. Some would be of the opinion that this would perhaps somewhat fictionalise the events. I would say however that it makes the facts that more gut-wrenching when you once more consider that this actually took place. The dialogue serves another purpose for me as well, it presents these women as actual people. Their government and the Nazi's were determined to render them as no more than names and numbers on paper, but they were so much more than that and this book honours that perfectly.
Would I recommend this book? Absolutely! Whether you have a huge interest in the subject matter like I do or whether you just want to learn about a part of the Second World War that is not talked about enough, I definitely think you should give this book a try.
I have no criticisms, I really enjoyed it. As I said not an easy read obviously but such an important one!
MY RATING: 5/5
What are your thoughts? Do you think that you will read this one?
Thanks for reading, I hope that you enjoyed!
If you would like to see more of my content then please follow this blog and check out my Instagram and Pinterest pages.
Until the next time…Jess x