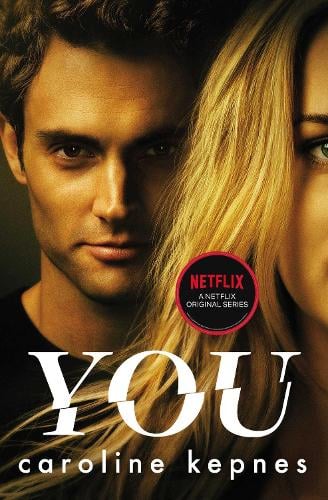 TITLE: You
AUTHOR: Caroline Kepnes
PUBLISHED: 2014
Man (Joe Goldberg) works in bookstore, woman (Guinevere Beck) wanders into said bookstore. It sounds like the perfect beginning to the perfect love story. And it is. At least in Joe's mind anyway. But there is more to Joe than meets the eye, and more to Beck than he first realises, and so begins a relationship that before long leads to obsession, danger and death.
You might like – A book review: The Seven Deaths of Evelyn Hardcastle
In a word: wow. It's not often that I pick up a book that immediately hooks me and leaves me ignoring everything that I should be doing in order to read more but this book did that. Sure, there are plenty of books that I don't want to put down but I usually prioritise the right things. That went out the window with this one however, I finished it in two days, and despite my eyes stinging from a severe lack of sleep, and my list of chores becoming longer and longer, I just couldn't put it down. It deals with obsession, well, I felt obsessed to keep reading.
It is so well written! It's creepy, scary and it shows how easy it is in our modern social media obsessed world to stalk somebody and learn every little detail about their life. It's an unsettling read that's for sure. Joe is our narrator, he is writing to Beck, telling their story and excusing his behaviour. His justifications throughout for his awful actions are stomach churning, made all the more terrifying because he is such an intelligent character.
I had already watched the Netflix show before reading this and I was a little apprehensive as to whether I would enjoy it. My personal preference is always to read the book before watching an adaptation but I didn't know about the book beforehand so I couldn't do that here. I needn't have worried. I'm a big fan of the show but I enjoyed the book even more!
You might like – A book review: Roald Dahl's Book of Ghost Stories
It's completely obvious by now but just to confirm I would absolutely recommend this one if you haven't checked it out already. It has everything a great thriller should have. There are cliffhangers throughout, there's suspense, there's twists that are not obvious (ok, I did know them because as I said I have seen the show but I wouldn't have guessed otherwise). It's a book that doesn't hang around, you're plunged into the action immediately and I think that is why it is so addictive. I already want to reread it!
The characterisation is so intricate and well thought out. You feel fear, pity and disgust in equal measure. It's certainly a book that leaves a lasting effect!
Simply put, I loved it. One of my favourite reads of 2019 for sure. In fact, it's one of my favourite reads full stop.
You might like – A book review: The Handmaid's Tale
MY RATING: 5/5
Have you read You? What did you think about it? If you haven't read it do you think that you will? As always I would love to hear your thoughts!
Thanks for reading, I hope that you enjoyed!
If you would like to see more of my content then please follow this blog and check out my Instagram and Pinterest pages.
Until the next time…Jess x