Just in time for Halloween I wanted to share my top film picks for the spooky season. I love horror films, it's my go-to genre so this list could have been a lot longer! It took ages to narrow it down to the ones that I have chosen so I hope that you enjoy reading!
As always, I would love to hear your thoughts so please do leave a comment at the end if you would like to.
The following titles are in order starting with my favourite, keep reading to see if any of my picks match yours.
Related post – My top entertainment picks from the first half of 2019
THE OTHERS (2001)
Not just my favourite spooky film but one of my favourite films full stop. I watch this film every year at least once. It's jumpy, creepy, and has a brilliant twist which you don't see coming. It's the perfect choice for Halloween…watch with the lights out if you're brave enough!
PARANORMAL ACTIVITY (2007)
I distinctly remember being so unnerved by this one that I had to turn on every light in the house until my parents got home. I sat staring around the room and looking up the stairs getting myself more and more worked up. It terrified me enough that I spent ages trawling the internet to confirm that it was not in fact real…even when I had confirmed this (multiple times) I still found myself struggling to settle down to sleep for a good few nights. It's a found footage format that really puts you on the edge of your seat! As the minutes roll by on the home cameras it's agonizing waiting for the inevitable jump. This one is full of suspense…the wait for something to happen is as terrifying as the result, if not more so!
SAW (2004)
This one is gory, really gory. It has the best twist at the end! I really didn't guess what the outcome was, it was one of those open mouthed moments. For me the rest of the francise didn't even come close to being as good. I really wanted to love the films that followed but for me they just didn't live up to this one. I thought it was so clever! Often gory horror films are just that, full of blood and gore and not much else. This isn't a criticism necessarily, it just is what it is. But for me, this film really makes you think. Throughout watching it I was desperately trying to work it out, but as I said the twist at the end is so good that I had no chance.
Related post – The book versus movie debate: The Woman in Black
THE SHINING (1980)
This is just an iconic film isn't it. It's one of those classic horror films that everybody should watch once…particularly if you are a fan of the genre. Based on the Stephen King book, Jack Nicolson's performance alone will leave you questioning if you will ever stay in a hotel again! Simply put it's terrifying and brilliant!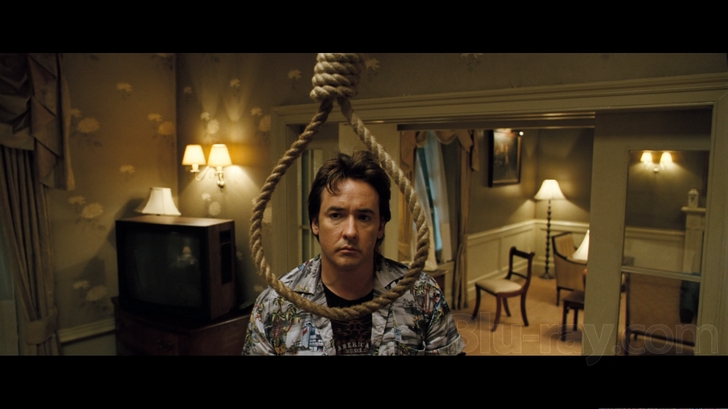 1408 (2007)
Another one that takes place in a hotel, another one that is based on a Stephen King story, and another one that is brilliant! It's a jumpy and confusing tale of the cynic being proven wrong. This angle has been done so many times in horror films but this one doesn't feel cliched or repetitive. It puts your nerves on edge wonderfully. I remember getting a copy of this on DVD for Christmas (probably the year it was released, and if not then pretty close to it) and I watched it over and over night after night. John Cusack and Samuel L. Jackson are superb.
So there's my top 5 horror films that are perfect for Halloween. Having said that they are perfect for anytime that you fancy a little scare…or a big scare depending on your tolerance of this genre. As I said at the start I could have easily doubled or tripled the number of titles, I really am obsessed with horror films! Maybe I will share more of my favourites another time.
Related post – Could you live somewhere that has a murky past?
What do you think of the titles on my list? Any that you love/hate? Any that you were surprised to see/surprised that I didn't include? I would love to hear!
Thanks for reading, I hope that you enjoyed!
If you would like to see more of my content then please follow this blog and check out my Instagram and Pinterest pages.
Until the next time…Jess x